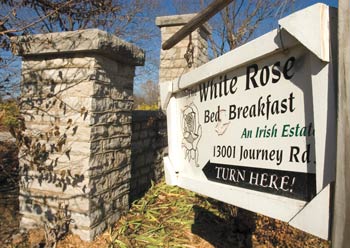 About Our Home
We are a family owned and operated farmstead.  When we greet you with "welcome to our home," it really is.  Our home was built in 1900 on a 2000 acre Hereford cattle ranch.  In the 1920's the property was downsized to 1000 acres and converted to a Dairy farm.  It was originally called Overlook Farm because from the front porch one could see all the way to the Spring River, alongside which ran the river road where you could see the horse-drawn carriages entering Carthage.

While our Irish Estate is only 10 acres now, it has still retained all of its former beauty.  When you enter the drive it may feel as though time slows or perhaps reverses, such is the tranquility of the land.  As you continue forward on your journey you will see to your left the expansive lawn stretched out before the house, and on your right the rows and rows of luscious grapes growing in the 4 acre vineyard.  Your first view of the house will reveal the elaborate porch and decorative columns of the building all constructed with white limestone, reminiscent of the "penny walls" in Ireland.

Next you will notice the limestone statue of our White Rose Lady and her gardens.  After passing her font, you will drive on around the house past the Rose and Herb gardens through the covered portico to park in front and enter via the front door.  You may stop in the portico to unload your bags and passengers if you desire.  Wine tastings are held in the parlor.

We await your visit!