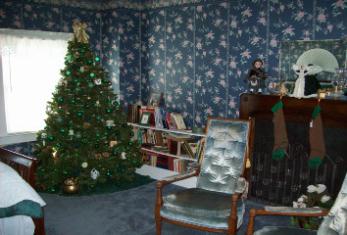 The moment you walk into the Dublin Library, you'll see the far wall lined with old books, framing an Irish Oak fireplace mantle from Dublin, Ireland.  The Dublin Library is of a roomy 16'x24′ size, with a bed once owned by the Unsinkable Molly Brown that was once taken to Colorado on a covered wagon, two gorgeous Henredon High Back Empress chairs, and a queen size sleeper sofa (in case you brought tag-alongs or progenies).

The Dublin Library is attached to its own large bathroom containing a jacuzzi tub and princess dresser.  And of course at Christmas time a lush green tree trimmed with irish ornaments and sprinkled with Irish Fairy dust at Christmas time.


Price: $105 per night plus a tax of $5.50 for two occupants.  A surcharge of $15 will be added for each additional occupant.