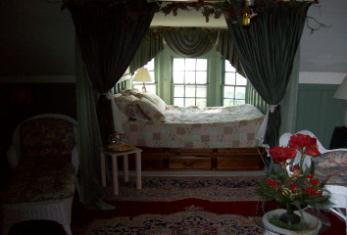 With 600 square feet of elegance, the Vineyard room sits high atop the house on the third floor.  Such height gives a wonderful view of the vineyards and down the three-hundred foot Carthage marble front walk, framed by the ancient and towering trees.

A jacuzzi bath ensuite, a queen size loft bed, and oriental carpet, the Vineyard room is sure to instill peace and tranquilty on any who tarry there.

Price: $105 per night plus a tax of $5.50 for two occupants.  A surcharge of $15 will be added for each additional occupant.